Sadie Quist | Arts & Life Editor
On Sunday, May 13, the Buena Vista University (BVU) Concert Band will be performing its annual Spring Concert. The concert is open to both BVU students and the public and will start at 3 p.m. in Schaller Chapel on campus.
The Scholarly ACES Event will be a performance of the BVU Concert Band's interpretation of works by Gustav Holst, Santiago Lope, and Bedrich Smetana.
Because this is the graduating seniors' final recital, they will be recognized at the event.
The BVU Concert Band will be joined by a very special guest: Andrew Hitz. Hitz is a tuba-soloist that will be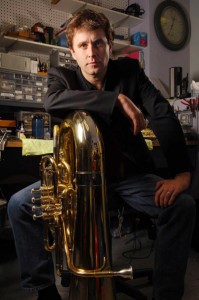 playing many familiar solo pieces. He has been involved with the Boston Brass for 12 years where he has toured all over. He has degrees from both Northwestern and Arizona State University. Hitz has performed in the New World Symphony, the Civic Orchestra of Chicago, and the Dallas Brass, along with being a founding member of the Klezmer Quartet Balaga. He has been made appearances on The CBS Early Show and National Public Radio (NPR).
Hitz's most memorable performances include being able to join the Dirty Dozen Brass Band and playing the National Anthem at Fenway Park before a Pedro Martinez start.
Hitz will not only be joining the concert but will also be conducting tuba performance classes on Monday at 10 a.m. in Edson.
"I have never worked an instrumentalist of that high of caliber before. Hopefully he will be able to give us some pointers that we can take with us after the concert," junior Hillary Nielsen said.
Hitz is also an Educational Ambassador for Jupiter Band Instruments and has conducted master classes in such places as Thailand, China, Germany, and England.
Come to Schaller Chapel on Sunday at 3 p.m. to join the BVU Concert Band in their last recital of the year with this very special guest!