Written by Rebecca Bassich | Contributing Writer
I remember the moment our AWOL team first pulled into Re-Member's driveway. South Dakota was such a vast and open land, and after leaving behind such a fast-paced existence in Iowa, the silence of those rolling hills seemed deafening. To live in that landscape was to become part of it, and that in itself was a very humbling experience for me.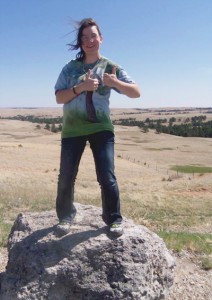 However, it was the people who made that patch of land so much more than just a road stop. Despite their many hardships, the Lakota were always so happy and eager to share and give of themselves. Some might say that to live without running water or electricity in a moldy trailer would be unbearable. That is the reality of life on Pine Ridge. There are no shopping malls, community buildings, or shelters. Dog packs run freely, hobbling on broken legs and sharing scabies. There are no vet clinics. Many children only eat once a day at school, but their mothers are too drunk to care. The closest job commute for anyone who is lucky enough to own a car is over 160 miles away. Clean water is scarce. Child suicide is rampant.
Poverty, the affliction of drugs and alcohol, gangs, and crowded trailers are the symptoms of more complex issues. However, I believe that with greater suffering comes greater wisdom if we allow for it. Cutting away the distractions of modern living can allow for a clearer mind and a greater appreciation for what is real in life if we are brave enough to face ourselves. If we were to step back and take an honest look at ourselves, I believe we would begin to see just how indifferent we are.
There is indifference to the people in our lives and the earth upon which we walk: a repression of our own humanity. With all of the benefits of a convenient, technologically-based lifestyle, I feel that we have developed a sort of "disconnection." In seeking refuge from the reality of our daily lives, we have resorted to the comforts of technology's virtual constraints. I am not saying that technology is to blame. Technology has served our desire to escape and hide. Being among the people of Pine Ridge helped me to face that selfish part of myself. However, wisdom means nothing if you do not have the courage to act upon it.
The truth is we need each other. The people of Pine Ridge helped me to see that. Despite the horrible poverty and despair that cripples this community, I see something stronger in the children's eyes – hope. These children are our future, and we should care more about them. We need to have the courage to switch our collective focus from "me" to "us." Now is the time to reconnect. By assuming a position of compassion and taking full accountability for our actions, I believe that we can begin to make the world a better place for ourselves and our children.