Sarah Koenen and Kimberly Nelson | News Co-Editor and Co-Editor-In-Chief
The Forum was buzzing with intellectual conversation on Monday, April 30, as students and faculty filled the area with academic presentations they had been working on throughout the length of the academic year.
A total of 159 students participated in this year's event with one-hundred seventeen pupils giving oral presentations of their project. Associate Professor of English Matthew Packer stated Monday evening that there was a great crowd at the event.
"We've had a good turnout," Packer said. "It's mind-blowing. There are so many things going on. It's really great."
Senior Meg Christians was among the students presenting at Scholars Day. The English major presented her senior seminar research project titled 'Facebook: An Identity Defining a Society'. Christians claims that this project was something no one has put much effort in to exploring before.
"It was something that hadn't been previously explored, and I was able to tie a lot of psychological concepts in with the project as well," Christians said.
Other students presenting included freshman Mary Jane Ferguson, sophomore Brianna Funte, and junior Alyssa Evers.
Ferguson and Funte had a joint presentation about the eight keys to storytelling which Walt Disney parks and resorts have managed to sucessfully implement into their business.
"We chose to do it because Brianna and I both attended the J-Term trip to Disneyland and Disneyworld. We thought it would be very interesting to use the eight different strategies to show how people can incorporate them into their everyday lives," Ferguson said.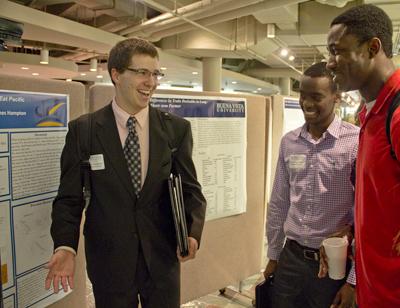 Evers' presented with fellow English as a Second Language (ESL) students who focused on evaluating how faculty at Buena Vista University (BVU) work with international students in the classroom.
"Our project focused on evaluating whether or not our professors are meeting the needs of international students on campus," Evers said. "We're curious to see how BVU is meeting the needs of international students. We hope to use this information so we can meet the needs of future international students as teachers."
Most students who participate in Scholars Day hope to gain experience in presenting as well as experience that can be written down on a resume. As Christians states, it is also a wonderful opportunity where students can show off what they have accomplished throughout their academic careers.
"It allows students to present works that they've put a lot of time and effort into throughout their careers," Christians said.