April Allen | Arts & Life Co-Editor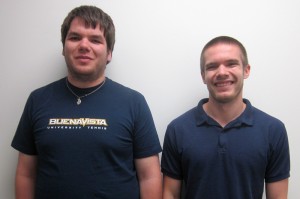 Two brothers, one graduation, and three majors. Senior Spanish major Shawn Rodine and senior Computer Science and Criminal Justice double major Eric Rodine will both be graduating from Buena Vista University (BVU) in less than two weeks.
The two brothers go to college together but feel indifferent about whether or not it is a good or bad thing. They eat together sometimes or study in the same building, and guessed on average, they spend a couple hours together each week.
Eric likes the small BVU campus and the feeling of knowing everyone, while Shawn's two favorite aspects about BVU include the library and the professors.
"The library is awesome! It is better than the library at home or at the college closest to us. There is a good archive of journals here. The library is sweet," Shawn said.
This isn't the first time the Rodine brothers haven't agreed. Growing up, disagreements would arise between the brothers, just like in any normal household.
"We used to share a room together…that was problematic," said Shawn.
They don't, however, share a room together here at BVU.
Before college, the brothers agree that their parents taught them a strong work ethic. Their mom found an ad in the paper for picking corn and selling it. They had to be there by six in the morning and fill the truck with corn. Then they had to go sell the corn until it was all gone. Sometimes this would result in a 12-hour day if customers weren't hungry for corn on the cob that day.
"This one lady always came to our corn truck, and we would always race to see who could help her first because she always left a tip. Corn was four dollars a dozen, and she would always give a five-dollar bill and say 'keep the change!' every single time. So, whenever we saw her pull up, we would always race to see who would help her. We called her 'Lady Lincoln' because she drove to Lincoln all the time," Eric said.
Perhaps the reason their mom made them get this job was because of their addiction to watching The O.C., a teen drama show about a group of young teens in Orange County, California. Shawn said they would watch this show for hours together.
Being 14 months apart in age, neither of them feel the role as the older or younger brother; they feel more independent, as Shawn said. Eric said they seem to agree about many matters in life, except food choice.
"He [Shawn] isn't one to share much on the tidbits of advice, but he does he tells me to go vegan all the time, but I just ignore him when he says that," Eric said. "We're both weird though, so I don't really get annoyed by the weird things he does."
Both plan to move home and look for jobs after graduating. Shawn is looking at AmeriCorps position around the nation or an internship in a Latin American country to use his Spanish degree.
Photo courtesy of Shawn Rodine