Kevin Coriolan | News Editor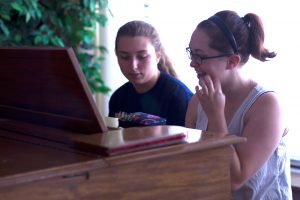 With over 100 requests last year for single dorm rooms, Swope Hall is under way as the lone singles-only hall on campus at Buena Vista University (BVU).
The newest change in Residence Life at Buena Vista University (BVU) is a unique option for students in Swope Hall, which is now the only hall on campus that strictly offers single dorm rooms to students. Liberty and Grand Halls have some single rooms that are currently occupied by upperclassmen from last year, but Swope is the only all-singles dormitory.
"The decision to make Swope a singles-only hall is in response to the high demand for single rooms last year and the availability in Swope Hall," Residence Life and Housing Director Dijon DeLaPorte said.
However, the availability may not last for long. As of Monday, Swope was 39% full with that number soon to rise. Tuesday marks the end of the "housing freeze" on campus, which occurs during the first two weeks of classes when room changes are not allowed. The end of the freeze will likely bring a flood of students requesting to move, and inevitably some will request single rooms in Swope.
DeLaPorte notes that before moving, students are encouraged to meet with their residence hall director. He also emphasized that living in a dorm with another student is preparation for living situations later in life whether it be in an apartment with a friend or living with a spouse. DeLaPorte knows there are downfalls to living with a roommate, though.
"It is a challenge for some students who are not used to sharing a room. Some people succeed academically by living alone," DeLaPorte said.
Other benefits of living alone include having more space, having an environment to unwind in, and using the dorm on one's own schedule; however, students risk having a lack of social interactions, which are valuable during the college experience. For this reason, the housing freeze is in effect in the beginning of the year to require freshmen to live with a roommate at first.
The financial costs, however, may sway some movers. A super single, a dorm that is fit for two residents, costs and additional $250 while a medium single cost $125 more out of a student's pocket. A small single, often called a "closet single" by students, does not have any additional cost.
But desire to live alone often makes the cost worth it for students in singles.
"I wanted my own space because all of my friends wanted singles, and we all wanted to be near each other," junior Scotty Locati said.
He sees the advantages of living in a single over the disadvantages.
"You can design the room however you want, and you don't have to worry about waking someone else up," Locati added.
This pilot year will allow Residence Life to know how popular the only-singles format is for students at BVU.
Photo by Tyson Domingo