Alyson Downing | Contributing Writer
"Tattoo Tales" is an ongoing series that features Buena Vista University students' tattoos and the stories behind them.
Sophomore criminal justice major Shelbi Curtis has a tattoo tale to tell all. Curtis has three tattoos: one is a rose, one says "hope", and the other is a heart with a pearl at the top, representing her mother, and two pearls in the heart, representing her and her sister.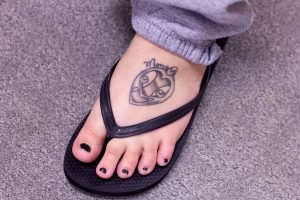 On Mother's Day in the year she turned seventeen, Curtis, her sister, and her mother got matching tattoos. Curtis and her sister came up with the idea just a month before, and they all agreed to get it together on this special day. The tattoo symbolizes a mother's daughters' love for one another. She placed it on her foot so she could show it off when she wanted to and could cover it up when she did not want to.
Curtis does not have any regrets on getting this symbolic tattoo with her sister and her mother.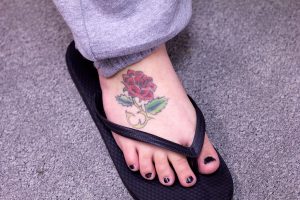 The rose tattoo was Curtis's first tattoo; she got it when she was sixteen. This was legal because in Nebraska if you have a parent go with you, you can get one. This tattoo was very spontaneous due to Curtis simply walking in and wanting a tattoo of something.
The artist asked Curtis what she wanted upon her spontaneous arrival.
"I like roses; give me a rose," Curtis said.
Curtis also placed this tattoo on her foot because she wants the freedom to show it or not show it. Even though this was her first tattoo, and it was spontaneous, she has no regrets.
Photo by Tyson Domingo